Welcome to the Radlett Centre
MARCH 2021 - UPDATE FROM Greg Dexter, GENERAL MANAGER
I am pleased to say that the Radlett Centre will reopen to the public on May 17th. Teatro will also resume trading on that day. It has been a very long year and we would like to thank everyone who has supported us in any way during this time.
Please keep an eye on this website for all new show dates as we are constantly updating it with new information. The shows up until the end of July will be on our socially distanced seating plan. We hope to resume full capacity from August onwards.
The Radlett Centre operates as a charitable trust. Any donations are gratefully received however small and will make a huge difference to The Radlett Centre
Stay Safe
Covid safety measures Donations
Trustee vacancies
The Radlett Centre is a self-funding charity which is run by the General Manager, Greg Dexter and supported by nine trustees, each who have a specific area of expertise. The Board meets about five times a year to discuss policies and agree budgets etc. We have three trustee vacancies and are looking for individuals with experience and skills in the following areas:
1.   Building surveyor's background with a knowledge of building services and civil engineering
2.   Property/real estate lawyer with experience of contracts/leases
3.   Business Management with strong social media skills
If you are interested and want to know more please email cosecretary@radlettcentre.com
Art Exhibitions at the Radlett Centre
A wide range of diverse exhibitors, from all over the world.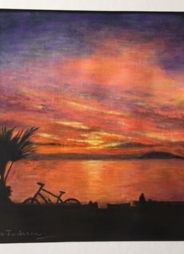 Amazing and inspiring work by a range of artists.
Radlett Centre events brochure
Find out all the latest news and show dates - Performance | Exhibitions | Theatre | Bar | Music
Download a copy of the Radlett Centre brochure...
Keep up to date with everything happening at the Radlett Centre and join our mailing list...
Please Note that the following shows have been cancelled and customers have been refunded.
Jewish Hollywood -14th March 2021
Beach Boyz - 6th May 2021
Rapunzel - 7th & 8th May 2021
Peppa Pig - 19th & 20th May 2021
We hope to reschedule them for later on in the year.