Welcome to the Radlett Centre
9th September 2020 Update from Greg Dexter, General Manager.
The Radlett Centre is still closed. All staff continue to be furloughed.  However, with changes in the furlough scheme we have recently managed to have a working week where we endeavoured to contact customers who held tickets for events up to the end of November.  Apologies if we didn't manage to reach you but please be assured that we will do so in due course.  It is tremendously helpful to us if you are able to accept a transfer to the new date, or keep funds on your Radlett Centre account to use towards future shows – these funds are entirely safe.  If you are in a position to donate the funds to The Radlett Centre Trust then we are extremely grateful for your generous support.  If you hold tickets for any events this year we will be in contact with you, before the date of the show, to discuss options available to you. As you will see from our website most shows have been moved to 2021. We apologise that the building is still closed and for any inconvenience.  Please keep referring to this website for updates.
Art Exhibitions at the Radlett Centre
A wide range of diverse exhibitors, from all over the world.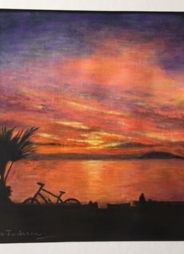 Amazing and inspiring work by a range of artists.
Radlett Centre events brochure
Find out all the latest news and show dates - Performance | Exhibitions | Theatre | Bar | Music
Download a copy of the Radlett Centre brochure...
Keep up to date with everything happening at the Radlett Centre and join our mailing list...
CUSTOMER NOTICE
Bookings for all shows until the end of September are suspended!!