Welcome to the Radlett Centre
July 2021
Following on from the Prime Minister's announcement confirming that Step 4 of the road map has been achieved and all legal restrictions will be removed. We are delighted that The Radlett Centre will now go back to full capacity seating.
The Radlett Centre supports the expectation and recommendation of wearing face coverings in crowded areas and therefore encourages their continued use inside the theatre.  We will continue to provide hand sanitiser which our customers are encouraged to use.  Please help us keep our staff, each other and our community safe.  Thank you.
The Radlett Centre operates as a charitable trust. Any donations are gratefully received however small and will make a huge difference to The Radlett Centre
Stay Safe
Covid safety measures Donations
Art Exhibitions at the Radlett Centre
A wide range of diverse exhibitors, from all over the world.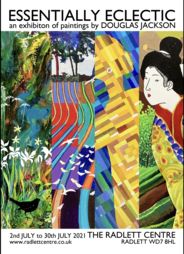 Amazing and inspiring work by a range of artists.
Radlett Centre events brochure
Find out all the latest news and show dates - Performance | Exhibitions | Theatre | Bar | Music
Download a copy of the Radlett Centre brochure...
Keep up to date with everything happening at the Radlett Centre and join our mailing list...
CHANGES TO PROGRAMME
STEPHEN K AMOS  will now be on Sunday 17th October. 
MILKSHAKE LIVE!  Wednesday 25th August has been cancelled. We have got another childrens show on the same date. Lily & Bear
ABBAMANIA has been cancelled
RUTHIE HENSHALL - IN MY LIFE - Thurs 7th Oct 2021 This show is changing to a new date.  We will be in touch with customers as soon as we have new date
Please contact the Box Office if you have tickets for any of these shows.