The Dame - written by Katie Duncan starring Peter Duncan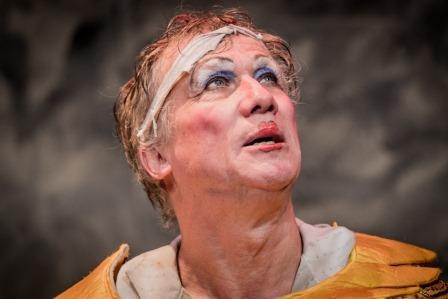 … "My Armour, my war paint, the battle out there: it's all I've ever known"
A lost world of seaside entertainment, piers and promenades is brought to life when seasoned pantomime dame Ronald Roy Humphrey returns to his Northern roots. As the curtain falls on the last show of the day, Roy is in a wistful, melancholic mood, but as the years fall away, ghosts and memories from the past confront him with what he spent his whole life trying to forget.
The Dame takes us on a journey inside an entertainer's mind to expose the fragile creature beneath the make-up, bluster and bravado. However many masks we wear, the truth will always be revealed.
Starring Olivier Award nominated actor and former Blue Peter daredevil Peter Duncan.
Directed by the Award winning Ian Talbot. Artistic Director of Regent's Park Open Air Theatre for over twenty years.
Written by Katie Duncan
★★★★★ 5 stars for Peter Duncan's "powerful and moving performance"
London Box Office
★★★★★ "Peter Duncan gives a stunning performance, The Dame is a clever, well written and brilliantly performed piece"
LondonTheatre1
★★★★★ "magnificent, exceptionally mature & powerful" one-man play The Dame - "at its heart is a moving & mesmerizing performance by Peter Duncan"
The Reviews Hub
Sunday 26th January
7.30pm
Tickets: £20
Show Runs: 70 Mins no interval
Book this show online
Latest News
Elysium Brass Quintet - Tue 12th Nov
Liza Pulman sings Streisand - Wed 13th Nov
The Gruffalo - Thurs 14th & Fri 15th Nov
Nick Ross Orchestra - Sat 30th Nov
Rabbi Santa - Sun 1st Dec