Frank Ifield Remembers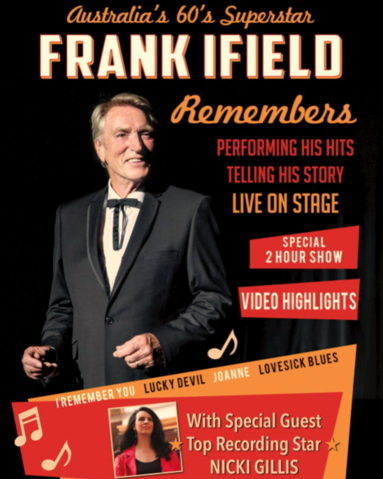 Legendary Australian based entertainer, (he was actually born in the UK) the ever-popular Frank Ifield appears in his own show with a nostalgic look back at his lengthy musical career, which spans more than 5 decades.
After releasing over 40 records in Australia, he returned to the UK to make his mark internationally. He was then the first artiste to have 4 consecutive No.1 hits in the charts with I Remember You, Lovesick Blues, I'm Confessin' and The Wayward Wind.
His longstanding career has really found a place in all music lovers hearts today, and with fellow Australian hit recording star Nicki Gillis as his special guest on the show, we celebrate the life and work of this truly great celebrated artiste.
Sun 20th May 8pm
Tickets: £18.50
Book this show online
Latest News
Tickets still available!
Frank Ifield Remembers
Sun 20th May 8pm