Radio Active with Angus Deayton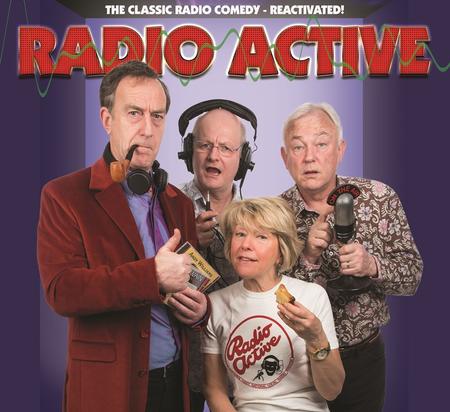 So Comedy & Broken Robot Productions presents
RADIO ACTIVE with ANGUS DEAYTON, PHILIP POPE, MICHAEL FENTON STEVENS, HELEN ATKINSON WOOD
Angus Deayton, Helen Atkinson Wood, Michael Fenton Stevens and Philip Pope reunite to take classic scripts from the award-winning BBC Radio 4 show on the road following a sell-out and critically acclaimed run at Edinburgh Festival Fringe. Among other classic characters expect to catch up with long suffering radio host Mike Channel, original foodie Anna Daptor, and the accident-prone Martin Brown, as well as the cast's original musical creations, responsible for such parody bands as The Hee Bee Gee Bees and Status Quid.
Based on the sketch show created during their years in the Oxford Revue, 'Britain's first ever national local radio station' was written by Angus alongside Geoffrey Perkins, and ran for seven series before transferring to television in the form of BBC2's KYTV. All surviving members of the original cast reunite for this tour marking 40 years since its stage debut.
★★★★ – The Telegraph
★★★★★ – British Theatre Guide
★★★★★ – The Edinburgh Guide
Weds 24th April 7.30pm
Tickets: £20
Book this show online
Latest News
Don't Miss Out!
The Nat King Cole Story
Sat 1st Dec at 7.30pm