9 to 5 - The Musical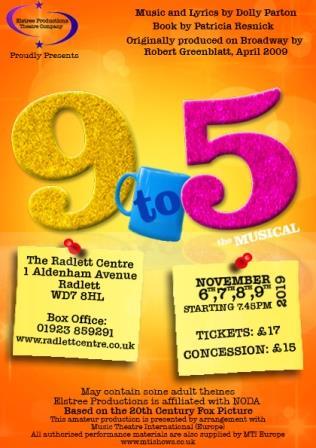 Support your local Amateur Theatre Group ELSTREE PRODUCTIONS presenting....
9 TO 5 THE MUSICAL
Which tells the story of Doralee, Violet and Judy - three workmates pushed to boiling point by their sexist and egotistical boss. Concocting a plan to kidnap and turn the tables on their despicable supervisor, will the ladies manage to reform their office - or will events unravel when the CEO pays an unexpected visit?
Inspired by the iconic film and brought to you by Dolly herself, this hilarious new production is about teaming up, standing up and taking care of business!
Wednesday 6th November - Saturday 9th November
7.45pm
Tickets: £17, £15 (Concessions)
Book this show online
Latest News
Paul Zerdin-Wed 23rd Oct-SOLD OUT
The Goldhawks perform Tommy-Thur 24th Oct
Griff Rhys Jones-Fri 25th Oct
The Vienna Festival Ballet-The Nutcracker-Sat 26th Oct
Elaine Delmar-Sun 27th Oct