Alex Mendham and His Orchestra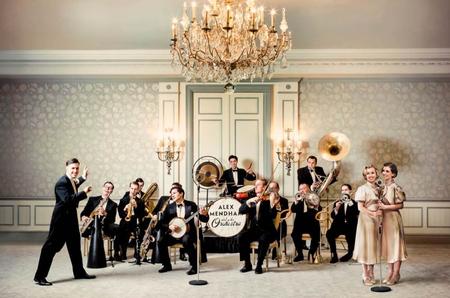 Formed under the youthful direction of Alex Mendham, this 14-piece Orchestra authentically performs hot jazz and sweet dance band music from the Art Deco era but with a modern energy and passion that comes from younger musicians. They will take you on an exciting and glamorous journey of song back to Hollywood's golden age of the 1920s/30s, with the hits of Gershwin, Cole Porter, Duke Ellington and Jerome Kern and others providing an unforgettable evening of music.
No corner is cut when it comes to preserving the sound or the clean cut image of vintage Hollywood: from their original instruments and attire to the pomade that slicks their hair, no detail is overlooked. Add to that the stunning vocals of the Dunlop Sisters and you have a unique combination that is wowing concert and festival goers at home and across Europe.
Sat 9th Sept 7.30pm
Tickets: £20, £18 (conc.) + 76p per ticket booking fee.
Book this show online
Latest News
STILL TICKETS REMAINING!!
"High School Rocks"
Tuesday 8th August
11am & 3pm