Snow White and the Seven Ghouls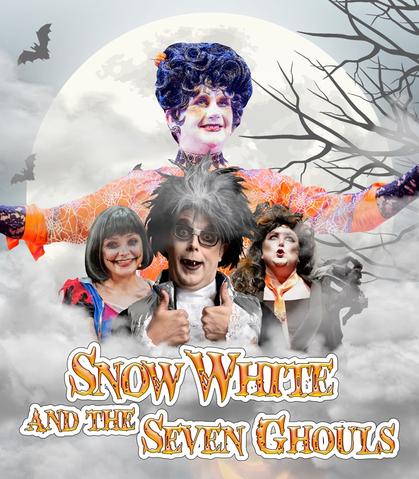 In the sleepy town of Boney Bottom, the lovely creatures and beasties are getting ready for "Humans-ween". Legend has it that this is the time of year when all those terrifying humans - only heard of in spooky movies and creepy stories - come out to scare young monsters. Come along and meet the lovely Snow White, the hilarious Polly-Geist, the cheeky Vernon the Vampire, and the evil witch Griselda. But if you're one of those terrifying humans you might want to think about coming dressed in disguise - or you could end up in the Boney Bottom high security zoo!
"Snow White and the Seven Ghouls" is a sensational retelling of the classic fairytale, with all the fun of a traditional Pantomime. It's a spooky Halloween adventure for the whole family!
Audience Fancy Dress encouraged but not compulsory!
Show runs 2hrs inc. interval
Suitable for the whole family
Tuesday 30th Oct 2.30pm & 6.30pm
Tickets: £15, £12 (under 16), Family Ticket £48 (4 people)
For family ticket - please select a minimum of 2 children and the discount will be automatically applied.
Book this show online
Latest News
Don't miss out!
Tottenham Legends
Mon 15th Oct, 7.30pm