Radlett Art Society's Annual Exhibition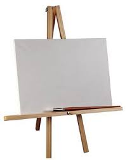 Art Society members exhibit their original paintings, drawings, etchings and 3D work, all for sale. They invite you to come and view their work. The exhibition includes a display of original works by students from the University of Hertfordshire and West Herts College.
FREE admission
Sat 7th July 2.30pm-6pm
Sun 8th July 10am-4pm
Mon 9th July 10am-7pm
Tues 10th July 10am -4pm
Latest News
Don't miss out!
Rock for Heroes
Fri 13th July 7.30pm